Good thing, there are no recordings …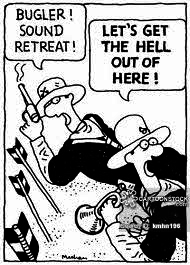 This woman is a fine upstanding example of American womanhood. She would never stoop so low as to make racist comments/rants. This must be another example of that fake news I keep hearing about.
She must wear headphones when she rants. She sounds like she hasn't actually heard what she said. The racists were right to believe she had adopted the KKK message. She clearly did.
She's only concerned about demographics, who said anything about race??? /snark
They really think americans are complete idiots.
Also, "secure borders, is something that used to bind our country together." WHAT? When? What is she talking about?
And David Duke agrees, nothing to see here…
The worrying uptick in shady Slovenian Communists is an issue for all Americans!
doublespeak: noun: language used to deceive usually through concealment or misrepresentation of truth; also: gobbledygook
Seems like a higher power caused her to recant…the Murdocks
And the sign said "brown-skinned LGBT people need not apply"
So I pasted Maybelline all over my face
And I went in to ask him why.
He said "You look like a straight God-fearing Christian man
I think you'll do."
So I pulled out my prayer rug and gave him a hug
Huh?! Me, working for you?
White nationalism cannot succeed without a scapegoat.
To that end, Ingraham has been doing her best to channel her inner Aryan.
Ingraham Denies Saying Anything Racist
And the Nazi-salute racist's sponsors are like, "That settles it, everything is fine."
There has been a huge push over the last 15 years or so (prob a bit longer than that) by racist to redefine 'racism' as 'only saying racist words'. It has succeeded to some degree, but needs to be pushed back on even harder.
It's like a belt, or a girdle. America got lumpy and obese because too many Americans started wearing soft (or sad) liberal sweatpants which use an elastic waist-law. Trump's wall will make us all trim and fit by keeping out the bad brown foods. #MAGA
Wake up, sheeple!
Conservatism, racism, religulosity, bigotry and hatred are joined at the hip. There is scarcely a degree of separation. I am sure that Laura Ingraham is a good white christian like jesus, reads her buybull at bedtime, prays to Iwanka and Skanky-Manslut and goes to church.
Paranoid thought: Is Ingraham creating a distraction from something else…?
Maybe with a nudge from the Sales Department?
It's all that unGodly yoga and those yoga pants that's tearing our country apart.