Oooooooh, this is, like, real-life Twilight Zone!
(Cue music…)
OMFG…Does this mean we can start calling The Donald, Wally??
Not Ward Cleaver…not by a Long Shot.
If he didn't have the world's worst bird- nest combover, our conman would look just like him.
I fail to see a clear connection to today's circumstances. I watched the episode and none of the town's women were raped by Trump.
This is such bullshit …
Everybody knows that you MUST have glitter on your umbrella
or it won't shield you from ANYTHING short of … rain ! —
I just happen to have some …extra… that I'd be willing to part with …
Just contact clunkerBR549truck …and for the low low price of just
a buck 2ninety8 … you too can enjoy Absolute Security ! ! -----
BUT WAIT ! ----- THERE"S MORE ! ----
Just contact clunkerBR549truck … and we'll DOUBLE your order ! …
                      ----  ACT NOW  ----
1958 TV Show Had Conman 'Trump' Selling Mystical 'Wall' To Hysterical Townspeople
Life imitates art.
This is really amazing. You couldn't write a more spot-on satire of Trump if you tried.
BTW, I'm pretty sure the narrator is the late, great William Conrad, who among his other accomplishments was also the narrator of the Rocky and Bullwinkle show. Seems appropriate.
Eventually — despite Trump's threat of a lawsuit — the show's protagonist, Texas Ranger Hoby Gilman, reveals that Trump is a fraud who's in cahoots with the town's sheriff, and midnight passes without any meteor-related deaths. Trump ends up dead, shot by the sheriff in an attempt to cover up the scheme.
Was the sheriff, by chance, named Putin? And was an autopsy checking for Novichok performed?
Strangely, the actor who played the Trump character, Lawrence Dobkin, was from NYC and was married 3 times.
As protection, he sells parasols with drawn-on mystical symbols, calling them a "wall" that can magically repel danger.
Everyone knows wheels, walls, and parosols are medieval contraptions that were effective then, and perform even better today.
Proof that time travel is real.
AND the first Masked Rider of the Plains.
Rich people use umbrellas to stop the rain and sun, so why shouldn't we have the same protection at our border??? Sad!
U2 used clips from the show in their concert show during one of their last tours.
Amazing. And checkout the main character next to Fred Trump.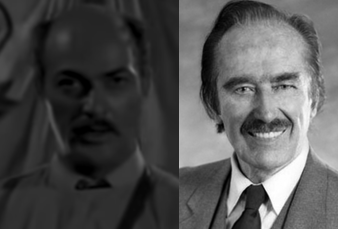 How much is shipping and handling?